Disclosure of Material Connection: Some of the links in the post are "affiliate links." I am disclosing this in accordance with the Federal Trade Commission's 16 CFR, Part 255: "Guides Concerning the Use of Endorsements and Testimonials in Advertising."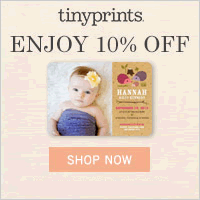 Know any future graduates? Check out this deal from Tiny Prints!
Enjoy ten free graduation announcement and invitation cards and save 20% off additional graduation cards using the code 10FREEGRAD at checkout. Postage, shipping, and tax fees may apply. Offer expires 3/17.
Click here to get your free cards!